Without question, I sell more books per hour when I do a public speaking event (at least pre-COVID) than I do any other way. There's just something about seeing a writer speak that inclines people (me included) to buy that writer's books. So I'm super excited to have Carollynne Hutter interviewing Bruce Coville about public speaking for writers on the blog today. Enjoy!
(Please note, that some of the links below are my affiliate links, so if you make a purchase through them, I get a commission at no extra cost to you.) 
As with so many other writers, I live in dread of public speaking as I feel awkward being in front of a group and having the attention focus on me.  Bruce Coville, an award-winning children's book author who has published more than 100 books, surprisingly enjoys public speaking and does it often.
To learn how to improve my public speaking, I call Bruce for his pearls of wisdom. Bruce first explains that he presents to two vastly different public speaking situations. One, he does public speaking to children when he does school visits. Usually 200 or 300 children are in the audience. Two, he gives speeches to adults through Society of Children's Book Writers and Illustrators (SCBWI) conferences as their keynote speaker. There he faces an audience of 1,200 or more people.
Both situations—engaging children with their wandering attention and presenting to large conferences with more than 1,000 adults—all sound like challenging situations.
"I tell writers that they should take acting lessons for two reasons: it gives them tools for public speaking and learning acting can improve their writing," says Bruce. He was originally a teacher and later a storyteller, so he applies this background and approach to public speaking. He doesn't believe in just stiffly standing when he gives a speech—he moves around when he talks.
"Public speaking should be kinetic," says Bruce.  "Be lively, dynamic, and energetic when you speak. When I talk at a school, I will act out the first two chapters of my books." For this reason, Bruce doesn't like Zoom, because he can't move around when he talks.
Even when he is speaking at a conference with more than 1,000 people, Bruce is kinetic.  He advises not to hide behind a podium or the screen of a PowerPoint when you speak if you want to connect with your audience. Actually, Bruce says he never uses a PowerPoint.
Besides acting classes, Bruce suggests voice lessons so you can control your voice when you speak. "A voice teacher can train you how to properly use your voice so it's not nasal; it has a richness; and you can project without shouting."
This sounds good to me because my voice often squawks when I talk in public.
"Over time you do build confidence with public speaking," says Bruce. Because Bruce has many years of experience with public speaking, he doesn't need to fully write out his speech, but instead he pulls from a collection of anecdotes and key points when he talks.
"I do what I call the Chinese menu of speaking: I'll pull some stories from this column and some from that column when I talk," Bruce says.
Bruce recommends looking to the powerful orator Governor Mario Cuomo for advice on public speaking—Mario Cuomo always emphasized the need to be sincere in oration and not try too hard.
"I suggest you find the speech in yourself," says Bruce. "A great speech means being psychologically naked in front of the audience: I give compassion and energy. I open my heart and want the audience to laugh and cry." It is so rewarding for Bruce when the audience leaps to their feet and applauds.
Bruce doesn't write out his entire speech, but he does write out the beginning and end and he makes notes what points to go to in between. "There are points I often make when I give a conference speech, such as how I became a writer," says Bruce.
Bruce suggests following the classic arc of good speech, which is tell them what you're going to tell them, tell them, and tell them what you told them.
"Say what you want to say in three ways. Make sure your speech has a structure and find the spine of the speech," says Bruce.  "I want my conference speeches to be uplifting and inspiring. I want the audience to learn more about writing and have tools they can take with them. I give them specifics they can apply to their work."
Bruce has a trick he shares. "I tell the audience to list a certain number of points. At once they get out a pen and start writing, listing each point. This way they feel like they gotten some solid information."
Following Bruce's advice, I ask him for his three top tips for a killer speech.
He answers:
Have a welcoming and funny opening, always open with humor, as it relaxes people.
Establish an emotional connection with people.
Build to a climax and then get out.
Bruce emphasizes the importance of humor, whether you are speaking to adults or children. Humor is key to public speaking.
"Who is your favorite orator?" I ask Bruce.
"Barack Obama. I suggest you study what he does," Bruce says. "He takes the material and makes it his own with his personal touch. Barack has poise, grace, elegance, and a beautiful voice, and he knows how to use compelling rhythm, repetition, and pauses."
Thank you, Bruce, for all this excellent advice on public speaking. I find it illuminating, and I know other writers will find it helpful too.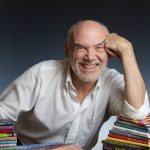 Bruce Coville has been writing stories for kids for over 40 years. In that time he's published over 100 books, including My Teacher is an Alien, Into the Land of Unicorns, and Jeremy Thatcher, Dragon Hatcher.
Carollyne Hutter, www.HutterWriter.com, enjoys writing for children and adults on environmental, scientific, health, and international development issues. She loves writing because she is always learning and has interviewed wildlife rangers in Zambia, marine biologist Philippe Cousteau Jr., and many more creative thinkers.